Home->Sailing Trips->Two Anchorages
Two Anchorages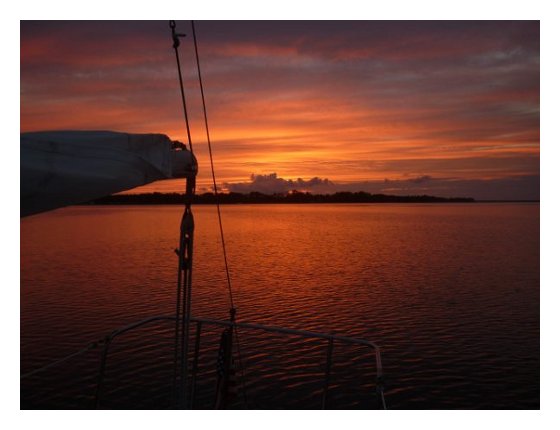 I drove down to Matthews Point on a Saturday in mid-August with high hopes of taking a multi-day cruise. The weather was unsettled with rain showers, varying winds and the chance of heavy storms, but the forecast was for southerly winds early in the week, then northerly later. It sounded like an opportunity to explore northward, perhaps to Bellhaven, and then get a fair wind home. David rolled in late Sunday, and we made tentative plans to take both boats and head north. As it turned out, Monday was scurvy weather and we stayed in port. During the day, David sold a bunch of stuff on ebay so he decided to go back to Asheboro to arrange shipping. With a rapidly changing weather forecast, I headed out Tuesday afternoon just planning to get somewhere downriver and make plans as the weather developed. The winds were ENE at 5-10 knots so it was a dead beat, but the water was flat and the boat sailed well under main and genoa. My last tack left me well-positioned to enter Adams Creek. I decided to follow the ICW to Cedar Creek and set hook there for the night since I had never anchored in this well-regarded spot before. Despite having looked at the chart and been in Adams Creek several times, I messed up my entrance and tried to run straight from marker 1 to 4 and had to double back to pass 2 and 3. Once I got myself oriented I motor sailed to Cedar Creek and found plenty of water behind marker 9. I anchored upstream of some stakes in the water that probably mark the location of that sailboat that sank in the creek many years ago. With the boat in a comfortable and secure anchorage, I cooked steak and pasta to views of a spectacular sunset of orange and red with looming storm clouds.
I slept late Wednesday morning and then a quick rainshower came over so I didn't get off the hook until 9:30. The wind was light and from ahead so I didn't set the sails. I motored out to marker 4 where I saw the Aurora tow coming in the creek. I hailed him on channel 16 and told him I would linger at 4 until he passed. About the time he came broadside the rain came down hard and I motored out into the river in poor visibility. The wind had come up and I was getting thrashed around so I set the main, and as the rain ended the genoa as well. I shut down the motor and sailed across the river to Oriental and continued in past the bridge, where I dropped the genoa. There was enough wind to sail up Greens Creek on the main, and with close attention to the depth sounder I proceeded far up past the last house on the creek until the water dropped under six feet. There I anchored close to a wrecked sailboat half up on the bank and another that appeared to be aground. I spent the afternoon cooking, reading and napping. I laid out wet clothes to dry in between scattered showers and watched the display of storm clouds mixed with blue skies and a rainbow thrown in as well.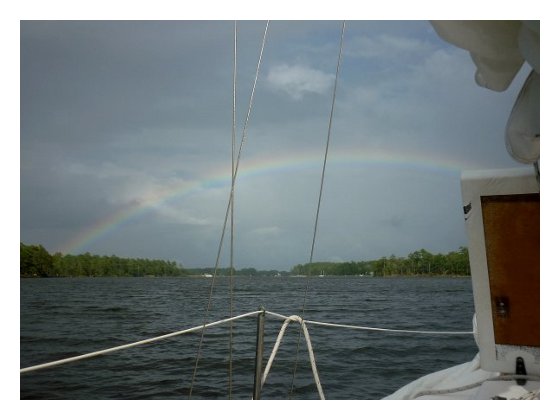 At 6:00 I set the main, pulled anchor and motor-sailed down the creek. I got out onto the river and found a good breeze from the ENE and under main and genoa made a fast trip to Matthews Point, tying up around 8:15. As I got the sails in, it started to rain. In the end, I didn't get far from home, but I did enjoy two new anchorages, which was good enough for me.